Speaking with Scott McLaren from Baroness Hockey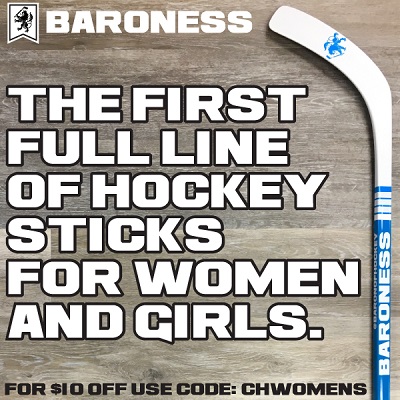 CARHA Hockey has been talking with Scott McLaren from Baron Hockey about their newcomer status to the hockey stick market. You can read about it here, but the Baron Hockey Co. also includes the first full line of women's hockey sticks.
CARHA Hockey: Scott, what can you tell us about what Baron Hockey is doing to service the needs of women hockey players?
Scott: When we started the company our goal was to significantly reduce the price of sticks without impacting quality. The by-product of that was a totally customizable made-to-order approach to hockey sticks. In allowing any and every player to get the exact stick they wanted we discovered just how sorely underserviced the female hockey market is.
CARHA Hockey: Can you expand on that?
Scott: First off, we'd like to clarify that we don't believe there is really such a thing as a women's or girl's hockey stick. A hockey player is just a collection of specs (height, weight, hand size, shot style, and personal preference) and their stick is just a matching set of specs such as SR/INT/JR, flex, curve, etc. Most sticks available at stores are available in a very narrow set of flex options, which doesn't suit most female hockey players. Our SR Model, the Baroness Boudicca has flex ranges from 60 to 110. Our INT Model has 6 flexes from 55 to 75.
CARHA Hockey: How has the response been so far?
---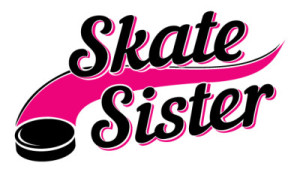 Skate Sister started out in 2011 as a group of thirty and forty-something friends in north and midtown Toronto looking for a great workout, a challenge to learn a new sport and a way back into team sports.
Over five years, the small group of beginner skaters has grown into a community of women from all over Toronto who enjoy getting an amazing workout while playing friendly beginner to intermediate recreational hockey. They've sent teams to Iceland and Vegas for epic hockey tournaments, hosted teams on their ice from as close as the Annex to as far away as Iceland and continue to bring together women from across Toronto in friendly competition.
Today, Skate Sister Hockey operates Toronto's only daytime women's recreational hockey league and offers beginner and intermediate level hockey and cardio power skating classes in central Toronto. They offer women a great workout, a fun community and an opportunity to play a team sport - a combination many women haven't had since their school days.
---
History of the Hamilton Women's Hockey League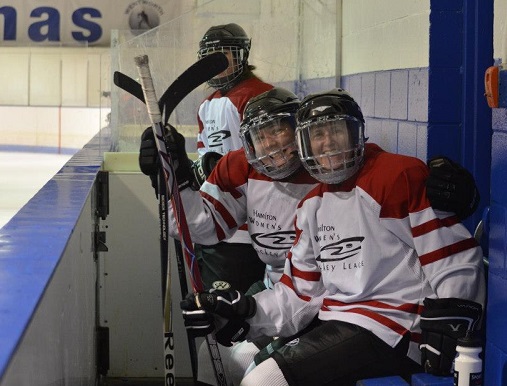 The Hamilton Women's Hockey League (HWHL) was started by Bev Mallory in 1994. Originally, the league was made up of only 4 teams! A few of the ladies that started with the league are still playing with them this season!
Since 1994, the league has grown quite quickly. Last season, they had 542 ladies playing on 38 teams in 5 tiered divisions and one Masters (40+) division.
All of the tiered games play on Sundays at Wentworth Arena in Hamilton. Sundays are a great time at the arena! Ladies gather for their games and then go to the arena bar/restaurant for fun social time. There is a happy buzz all day long as the ladies mingle with old friends and make new ones!
---